Crafting With The Maker: Jane Sayre Denny
Description
Learn the Basics of Decoupage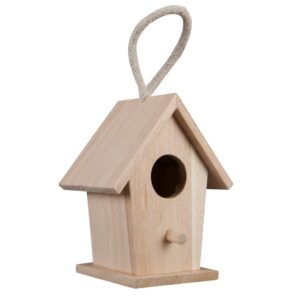 At our first Crafting with the Maker we will be learning the basics of decoupage by turning a simple wooden birdhouse into a work of art!  The class will be taught by local maker Jane Sayre Denny.
Decoupage or découpage is the art of decorating an object by gluing colored paper cutouts onto it in combination with special paint effects, gold leaf, and other decorative elements. Commonly, an object like a small box or an item of furniture is covered by cutouts from magazines or from purpose-manufactured papers.
In this class we will be providing the birdhouses, brushes and the glue. We will also have various sets of paper to choose to decorate your house from but if you have something you love at home, feel free to bring it! Napkins work great, tissue paper or other similar style decorative papers. Heavier card stock is NOT appropriate for this craft.
This class is limited to 8 people and will be held on the deck at 6 Depot Street, Suite 104, Washingtonville, NY 10992.
About the Artist
Jane Sayre Denny (born Jera Denny) is an award-winning artist and writer. She is the author and illustrator of children's books, Emmaline and Harry Goes To Heaven, as well humor publication, The Twelve Cats of Christmas. She illustrated The Cats On My Block for Humane Society of NY, and the Power Kid series by Obi Nwokolo. (All titles available on Amazon.com) She is also the creator of the award-winning The Pride Cartoon (www.thepridecartoon.com)
Originally from NYC, Jane is semi-retired and living in Cornwall, NY with her rescue cat, Jack. She enjoys a sedate life, painting, crafting and teaching. She does occasional pop-up shops in her sunroom and is one of the iHeart Hudson Valley Market makers. Her work can be found in our retail store in Washingtonville as well as on our website at www.ihearthudsonvalley.com.